Dr Sam Lowther's love of bushwalking and outdoors pursuits led him to Hobart in 1991 where, after 5 years working in Hobart and around the state, he set up the fledgeling Lindisfarne Veterinary Clinic.
From humble beginnings in an old renovated weatherboard house, the practice has gone from strength to strength and now employs three full time veterinarians and seven full and part time veterinary nurses.
A beautiful purpose built clinic was built in 2002 and now houses state of the art equipment and facilities.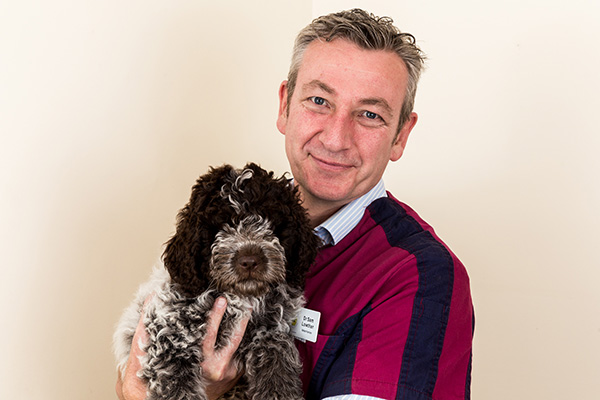 Dr Sam Lowther
Practice Owner & Veterinarian (BVSc (Hons), IVAS Veterinary Acupuncture Certification)
Dr Sam Lowther's love of animals led him into his chosen field and he graduated with honours from the University of Melbourne Veterinary School in 1990.
Dr Lowther has completed further post graduate studies in his preferred field of small animal internal medicine as well as radiology, and has certification from IVAS, the International Veterinary Acupuncture Society, in veterinary acupuncture.
Alas, he doesn't get to do much bushwalking these days as his wife and three young daughters keep him way too busy!! Eddie ("Fast Eddie") the cat, Ronnie the dog and Sparkles and Pineapple the rabbits are very happy he is around the house more though.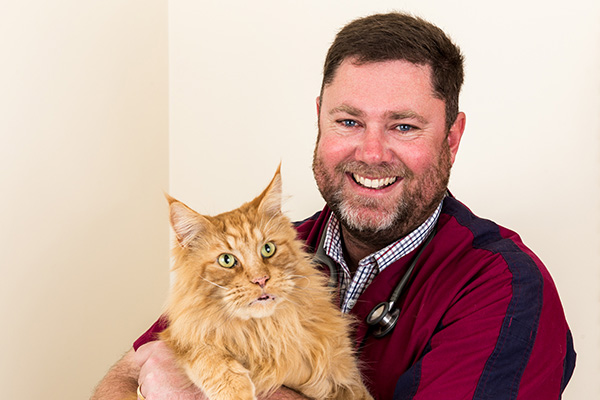 Dr Brook Legosz
Practice Owner & Veterinarian (BVSc)
From the age of 10, Dr Brook Legosz wanted to be a vet. His love of animals inspired him to pursue his childhood dream and he graduated from the University of Queensland veterinary School in 2001 after previously completing a science degree.
Brook has always loved Tasmania and moved here in 2002. In 2004, he joined the Lindisfarne Veterinary Clinic team and in 2009 became a partner in the practice. Brook enjoys surgery, has a special interest in oncology and loves Bull Terriers.
Brook lives with his beautiful wife and 4 young children. Living with the Legosz family is Tallak, the enormous Maine Coon cat. When Brook is not at the clinic, he enjoys fishing, gardening, more fishing, even more fishing and spending time with his family at their shack.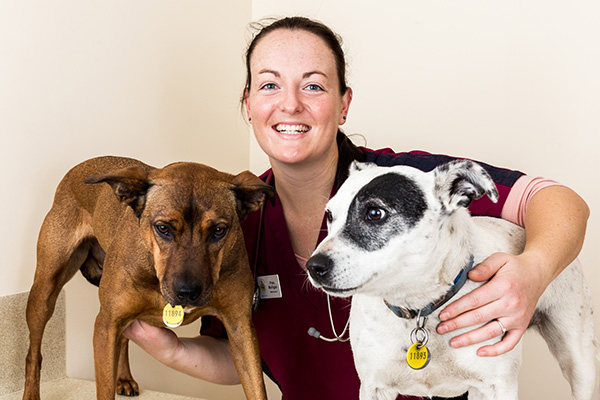 Dr Fran Mulligan
Veterinarian (BSci, BVMS)
Fran graduated from Murdoch University in Perth with a Bachelor of Veterinary Medicine and Surgery in 2010. After 2 years at the Montrose Veterinary Hospital dealing with a wide range of large and small animals cases, and 12 months locuming at various Veterinary clinics in the Hobart area, she joined the Lindisfarne Vet Clinic team in July 2014 as a full time small animal clinician. Her passion is tricky small animal medical cases and she hopes to complete a membership in small animal medicine in the Australian College exams in the future.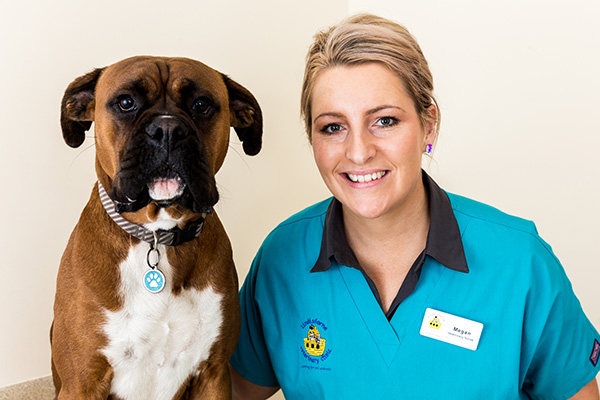 Megan
Veterinary Nurse (CII Veterinary Nursing)
Growing up on a 5 acre hobby farm, Megan was surrounded by animals, birds and bees. Her love for animals started early and continued through 12 years of pony club training and several pets. She started Veterinary Nursing with the Lindisfarne Veterinary Clinic in November 2003 and completed her Certificate 2 in Veterinary Nursing shortly afterwards. She is part way through her Certificate 4 in Veterinary Nursing and has returned to part time nursing after the birth of her two children. She can usually be found playing with Walter the Boxer pup, or looking after the sheep on her property.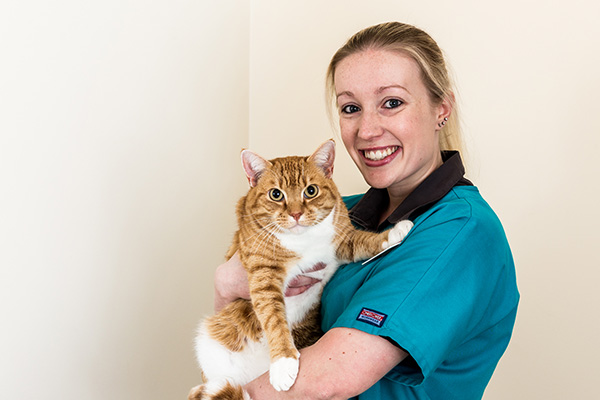 Melissa
Veterinary Nurse (CII, CIV Veterinary Nursing)
Melissa so impressed us during her school work experience that we offered her a job and she has been working as a Veterinary Nurse since December 2007. During this time she has completed her Certificate 2 and Certificate 4 in Veterinary Nursing. Known for her cheerful demeanor and love of fun, Melissa also loves travel and is currently the only person I know who has ever been to Santa's home in Finland!! Cats love Melissa and she shares her home with Alfie, Minkie and Speedy.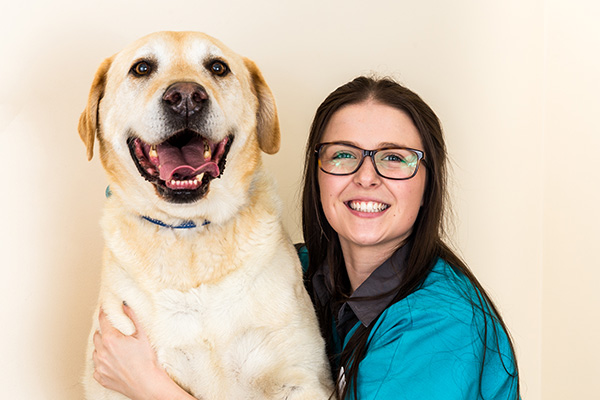 Samantha
Veterinary Nurse
Samantha was another whos debut on school work experience was so impressive that we offered her a job! Starting with us in December 2010, Samantha has rapidly taken on the responsibilities of the job and is currently half way through her Certificate 2 and 4 in Veterinary Nursing.
You'll often find Samantha cheerily greeting you at reception and guiding you through the clinic. She shares home with Jaffa, the stomach on legs/Labrador.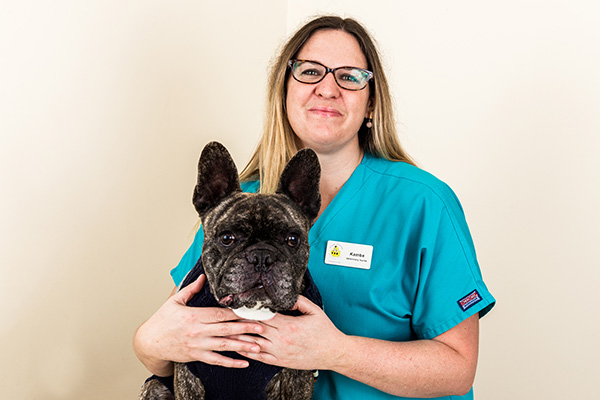 Kambe grew up on a dairy farm in the north east of the state and so was looking after animals from an early age. She started her Veterinary Nursing career at the Scottsdale Veterinary Clinic in 2000 and moved to the Lindisfarne Veterinary Clinic in July 2005. She is part way through her Certificates 2 and 4 in Veterinary Nursing and has returned to Veterinary Nursing after several years off to raise her kids. When not chasing after her husband and two girls, she is frequently found chasing after Winnie the cat and "Bourdy", the French Bulldog!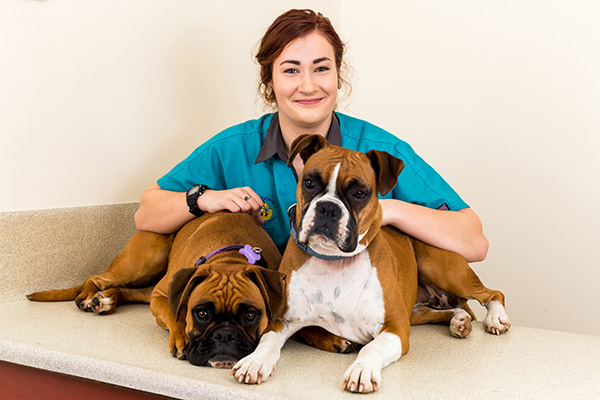 Kat
Veterinary Nurse (CII Veterinary Nursing)
Kat joined the veterinary nursing team in July 2014 after impressing us with her skills and compassion during work training for her Certificate 2 in Veterinary Nursing. She has quickly become a key member of the nursing team.
Kat hopes to further her training with a Certificate 4 in Veterinary Nursing in the future. Kat loves Boxers!!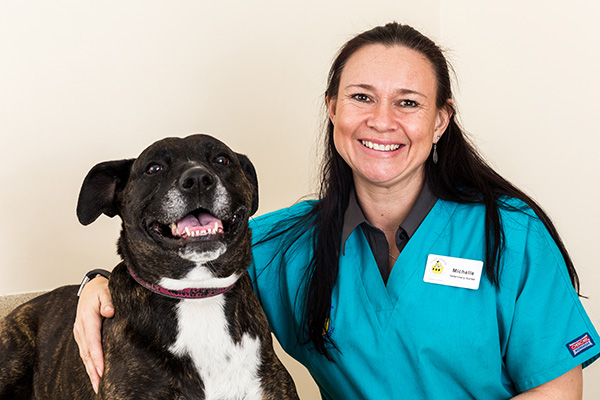 Michelle
Veterinary Nurse
Michelle joined our nursing team in December 2012 as a casual Receptionist and Veterinary Nurse. Michelle has extensive experience in Veterinary Nursing having started at Tasmanian Animal Hospitals in 1991, and has since fulfilled several roles in nursing, surgery and management in veterinary clinics at Bellerive, Sorell and Lindisfarne. After a break from nursing to raise her family, Michelle brings her skills to the reception area at Lindisfarne. Michelle has a menagerie of pets at home including chooks, a range of Psittacine birds, dogs, stray and injured wildlife and even stick insects.
Contact us Today!
Call us to book an appointment with one of our experienced veterinarians to ensure a happy and healthy life for your pet.
Opening Hours
Monday-Friday 8am-6:30pm
Saturday 9am-1pm
Sunday & Public Holidays - Closed